The Professor of INRS Made an Academic Report in UJN
On June 6th, Dongling Ma, the Professor of National Institute of Scientific Research (INRS) come to School of Chemistry and Chemical Engineering of UJN, and made an academic report entitled Hybrid Nanomaterials for Energy and Biomedical Application. Zhu Deqiang, Deputy Secretary of the party committee of UJN, awarded Professor Dongling Ma the certificate of the visiting professor of UJN. More than 100 teachers and students from related schools participated in the report.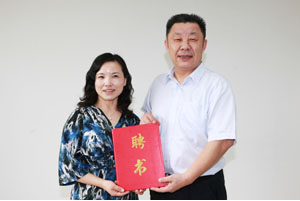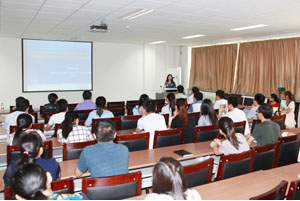 During the report, Professor Dongling Ma talked about the cooperation status between INRS and UJN firstly. Relying on the cooperation agreement signed with UJN, INRS applied for the fund of Qu bec-Shandong Province last year, aiming at supporting Canadian professors to come to Shandong province for academic exchanges. In the report, Professor Dongling Ma showed the latest scientific research results. After the meeting, Professor Dongling Ma visited some of the laboratories of the school of chemistry and chemical engineering, and communicated with the teachers here.
Dongling Ma is the full Professor of National Institute of Scientific Research (INRS), and he does the research on precious metals nano-materials surface plasmon resonance, novel catalyst design, quantum dots luminescence materials and other respects. In last 5 years, the related works published in journal including J. Am. Chem. Soc., Adv. Funct. Mater., Chem. Mater. and ACS Nano are amounted to about 70. Professor Dongling Ma is the editorial board of the Scientific Reports, Reviews in Nanoscience and Nanotechnology, ISRN Nanomaterials and other magazines, and he is also the full member of American Institute for Research, ACS member, and member of the Chemical Society of Canada and so on.